Alaska is one of a kind ski paradise that draws numerous fans of winter sports to its fold every year. The resorts receive over 40 feet of snow yearly, and with that being said, it is a synonym for the world's best skiing and snowboarding sanctuary.
If winter sports are your religion, then Alaska might just be your Mecca. With its massive snowy mountains, captivating views, and enormous skiing terrain, it became a prosperous tourist location for all those who enjoy winter and all activities that follow it.
It is also home to some of the largest mountains on the planet that have elevations even up to a whopping 20.320 feet (Denali). These mountains are lumpy and wild, which is very attractive and worth visiting in so many ways. There is so much unapproachable terrain and untamed wilderness that just begs visitors to tame it.
Of course, not everything is unapproachable, and there are many resorts and hotels in which you can stay with your family and friends when taking a break from skiing and sightseeing. In the section below, we will list some of the most popular locations in which you can check-in, spend time snowboarding or skiing, or simply relax and enjoy all the natural beauties Alaska offers.
Eaglecrest Ski Area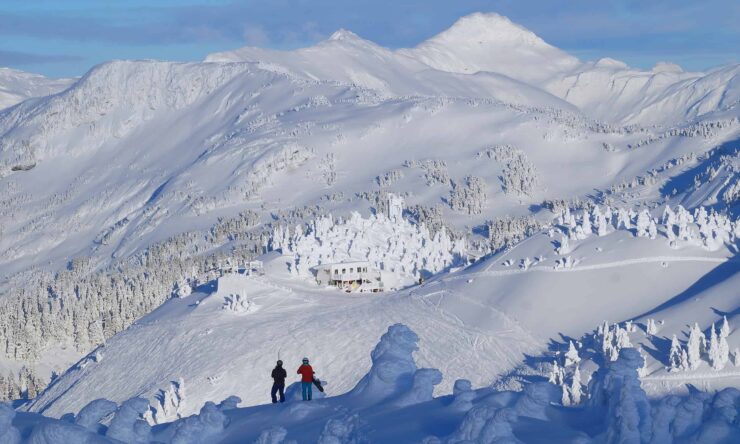 There are not many ski resorts in the southern parts of the Alaska state that wonderfully combine skiing and beautiful views, such as Eaglecrest. This area is around 12 miles west of Juneau, on Douglas Island.
It is heaven for winter sports enthusiasts since it gives them access to 640 acres of skiing surface. There is a total of 36 runs available on this terrain, and they are suitable for different skiing skill groups so that everyone can enjoy them, experts and novices.
The ski season in Eaglecrest typically lasts around five months. It starts during the first week of December and ends around mid-April. This is more than enough time to explore this resort's natural beauties and lovely skiing terrains. There are multiple ski equipment rentals around, and the ski area is located only 25 minutes from the airport.
Alyeska Resort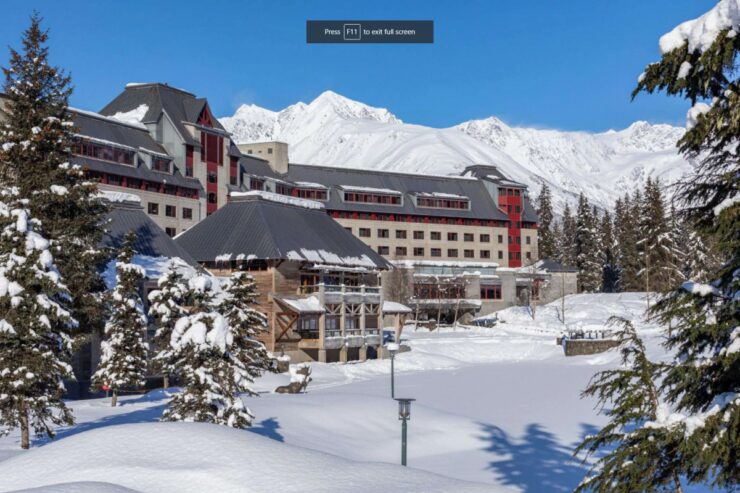 Alyeska Resort is the only sea-level ski area you can find in North America. It is located far up the north and covers more than 1.400 acres in the Chugach Mountains and National Forest. The skiing seasons last much longer in this area and therefore is an excellent location for winter sports enthusiasts.
The resort offers you 6 chairlifts and a 60-passenger aerial tram, so you can get from one spot to another very fast and save some time for exploration and entertainment. There are many ski runs available for novices and intermediates, but more than 50 percent are ideal for advanced skiers.
This resort, on average, receives between 600 and 750 inches of snow yearly, so there is enough ski powder to go around for everyone. It also offers a unique opportunity for night skiing which starts at 4 pm and runs its course until 9 pm. The terrain features high-quality light bulbs that reflect snow all the way so that you can have a clear sight throughout these activities. 
Arctic Valley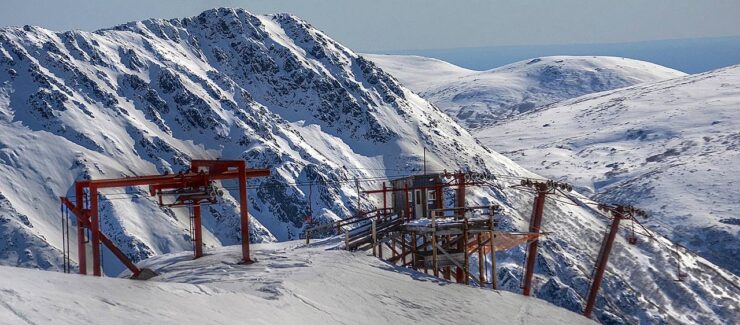 Arctic Valley has a specific type of charm that draws tele-skiers, riders, alpine skiers, and other adventurers to its fold. It provides you with a feel of exploration of the backcountry that comes with the conveniences and safeties of a ski resort. 
It is a family-friendly and far less crowded area that provides you with warm and nurturing escapism. You get 25 kilometers of slopes at your disposal on the Anchorage skiing area, which is built to suit the needs of most intermediate and advanced skiers.
There are 4 lifts available that can take you to heights of 2.500 feet and 3.898 feet at the summit elevation. Since it boasts a vertical drop of 1.398 feet, this ski area offers some of the best downhill skiing experiences in the world.
Mountain Eyak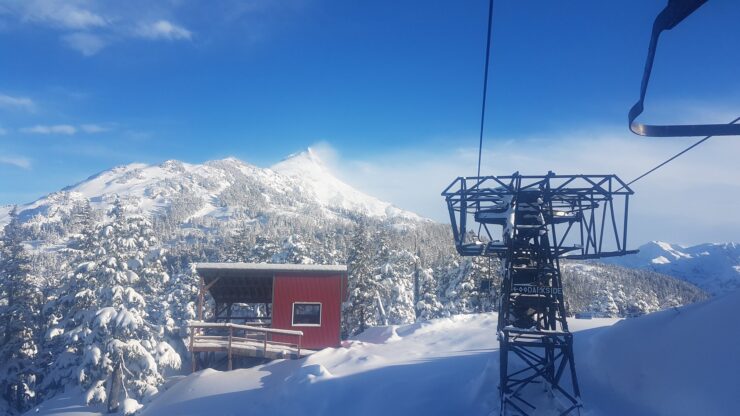 Mountain Eyak in Cordova offers rustic escapism and minimalistic skiing to you and your family or friends. This area allows you to explore the wilderness and learn a lot about the history of Alaska.
The resort is equipped with a historic and well-maintained chairlift from 1939, leading you to 30 ski runs available to participate in. It is an excellent place for winter adventuring and also a perfect blend of culture, history, and winter sports.
This area is a bit more remote and rural than others, but it is definitely worth investigating. The resort is open from December to April on the weekends, holidays, and most of the snowy days.
Girdwood Ski Inn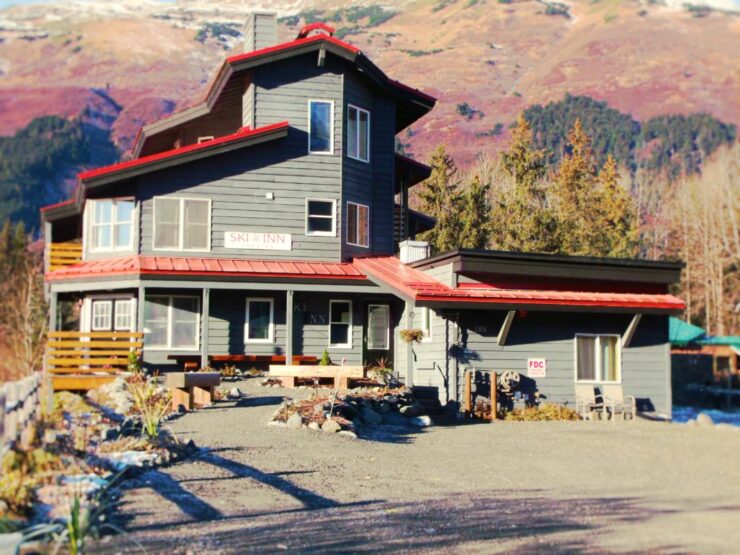 Girdwood Ski Inn is located in a small Alaskan village Girdwood. It is the perfect location to spend winter holidays skiing or snowboarding since the Chugach Mountain Range peaks surround it.
This charming inn has 8 room options, including one bunk room that is available for quite an affordable cost. All the rooms are available for under 200 dollars which is really tough to find anywhere else.
Girdwood is well-known for downhill skiing, snowboarding, cross-country skiing, heli-skiing, snowmobile excursions, and many more pleasantries that you can encounter. It is not only great for winter sports enthusiasts but for everyone who wants to enjoy Alaska's natural beauty at its best. 
Fort Wainwright/Birch Hill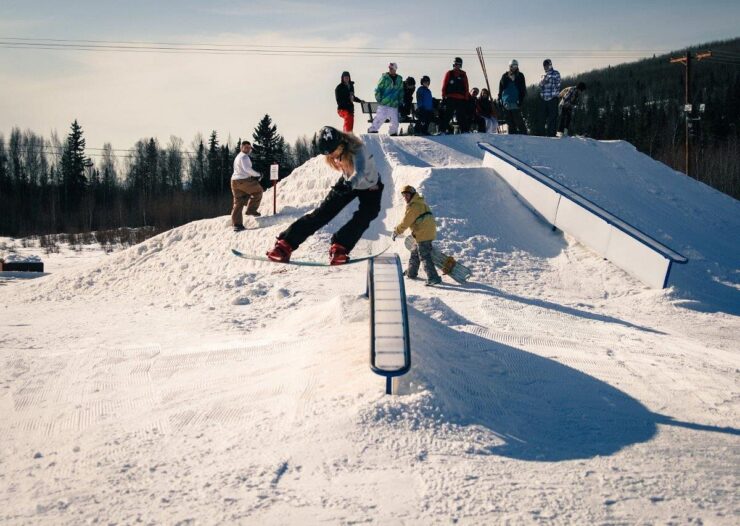 Birch Hill is an ideal destination for anyone that enjoys skiing with family and friends. This lovely location is surrounded by mountains that are 1000 feet above sea level, and in addition, offers you wonderful sights to see and hills to slide down from.
This resort has a vertical drop of 160 meters, so it is excellent for downhill skiers. It also features 3 lifts that provide you with access to 1.8 kilometers of skiable slopes. Most of them are rated as easy and are suitable for beginners and casual skiers, while 17 percent are reserved for advanced ones.
In Summary
We have barely scratched the surface, listing only a couple of beautiful ski resorts that you can find in Alaska. On top of being one of the most popular locations in the world for winter sports lovers, it is also one of the most scenic zones you will ever visit.
There is a lot of room to ski and taste all the beauties these resorts can offer you. If you are exploring for an authentic place to spend your winter holidays, look no further because Alaska has tons of that in the offer and then some.